With an ever-growing number of EVs on Europe's roads, demand for fast charging is increasing almost daily.
This raises some important questions, such as: what can be done when grid capacity is lacking? And how can we deliver high-power charging to keep the EV transition on the road?
The solution is to equip commercial and industrial buildings with advanced energy storage systems that provide additional charging capacity to supplement power from the grid. Here's how.
Grid capacity
However, new challenges lie ahead as the transition to more sustainable transport gains momentum. Some parts of Europe's energy grids date back more than 100 years and upgrading them to support this level of EV charging presents a massive task.
And in some more remote areas where grid capacity is low, upgrading the infrastructure may prove too costly, given the potential for limited demand in sparsely populated regions.
For building owners, their individual grid connections may not be strong enough to deliver the power to support high-power charging. This will mean joining the queue for an upgrade — a potentially costly process that can involve long processing delays.
Even if the connection is sufficiently robust, commercial users pay time-of-use tariffs that charge more for electricity at times of peak demand. So, unless an alternative can be found, installing EV chargers can create a double cost involving the price of the installation plus higher energy bills.
"In the short term, it's one way to make the grid connection faster. As power generation goes to renewables, stability of the power grid decreases; using batteries can help to stabilize the grid and help to avoid costly downtime if the network is down."

Eero Pehkonen, Field Application Engineer at Delta
Intelligent energy management
Fortunately, there is an alternative solution.
"Designing electrical systems involves adding some buffer and assuming that the building loads will consume all of the available power. But with energy prices and costs of getting a larger grid connection increasing, how about using energy storage? This means you can boost charging speeds without oversizing everything," says Eero Pehkonen, Field Application Engineer at Delta.
Installing EV chargers in commercial buildings requires an intelligent energy management solution based on energy storage, supported by on-site solar or wind power. Batteries can be charged at night and during off-peak times when energy costs are much lower — typically less than half of peak-time prices.
The installation can be more energy efficient if photovoltaic cells or wind generators are used to charge the batteries, as well as provide power to the building. Here, a facility can draw power from the battery to overcome intermittent periods when renewables can't generate energy.
Adding an AI-driven energy management solution can optimize the system to deliver maximum charging capacity at the time of the least grid demand and lowest cost.
"In the short term, it's one way to make the grid connection faster. As power generation goes to renewables, stability of the power grid decreases; using batteries can help to stabilize the grid and help to avoid costly downtime if the network is down," Pehkonen explains.
An additional benefit is energy storage can enable the building owner to participate in energy markets by selling any surplus power back to the grid.
"So when the sun isn't shining and the wind isn't blowing you can participate in the energy markets by using the capacity from the batteries," says Pehkonen.
"In the long term, you can think of EV charging as a way to participate in the energy markets. Trucks in parking spaces can be participating in the energy market to stabilize the grid at an EU level."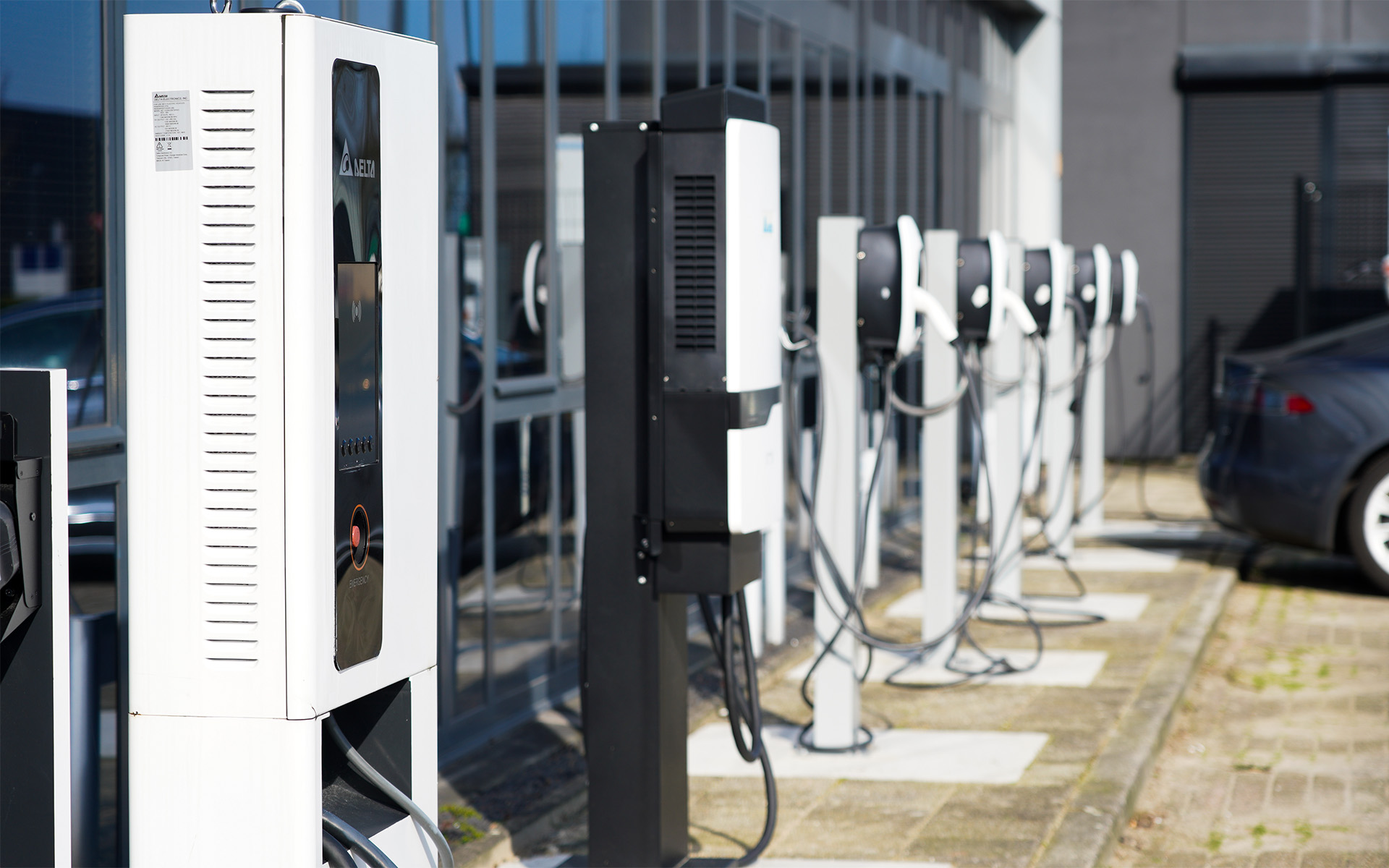 The solution in action

In Hoofddorp in the Netherlands, Delta has installed a state-of-the-art solution – EV Charging with Battery Energy Storage system integration – at its European headquarters in a building that is 35 years old.
Back in 2021, COVID-19 mandates meant half of all the company's employees were working from home. And despite only four to six EVs being charged in the parking lot during peak morning hours, electricity consumption from EV charging still exceeded 70% of the total office electricity use. This resulted in Delta having to enlarge the electricity connection to maintain the power supply and avoid a penalty, which in turn increased the monthly fixed capacity tariff.
It was clear the site would need to generate and store its electricity — but also that the power supply should be managed as efficiently as possible.
Delta installed an energy storage system together with rooftop solar, overseen by an intelligent energy management system known as DeltaGrid.
"You cannot just install a device and let it run. You need one central point for energy management," says Pehkonen.
By deploying DeltaGrid, power demand from the grid has been significantly reduced. Batteries supplement the power needed for EV charging, while renewable generation charges the batteries and delivers power to the building. As a result, total energy costs at Delta's European headquarters fell by 15.64%, while easing the peak load impact caused by EV charging reduced related electricity bills.
There are many obstacles standing between Europe and its ambitious zero-carbon targets, but limited grid capacity need not be one of them.
Deploying AI-enabled smart energy generation and storage systems can help overcome infrastructure challenges and supercharge efforts to embrace more sustainable transport solutions.