Designed to be as sustainable as possible from the foundation up, Delta's Helmond office is what's known as a green building. It has even achieved gold certification from LEED (Leadership in Energy and Environmental Design), the most prolific green-building rating system in the world. We caught up with architect Gordon Jack from VAN AKEN Concepts to learn about the design process and the solutions that were implemented to maximise sustainability.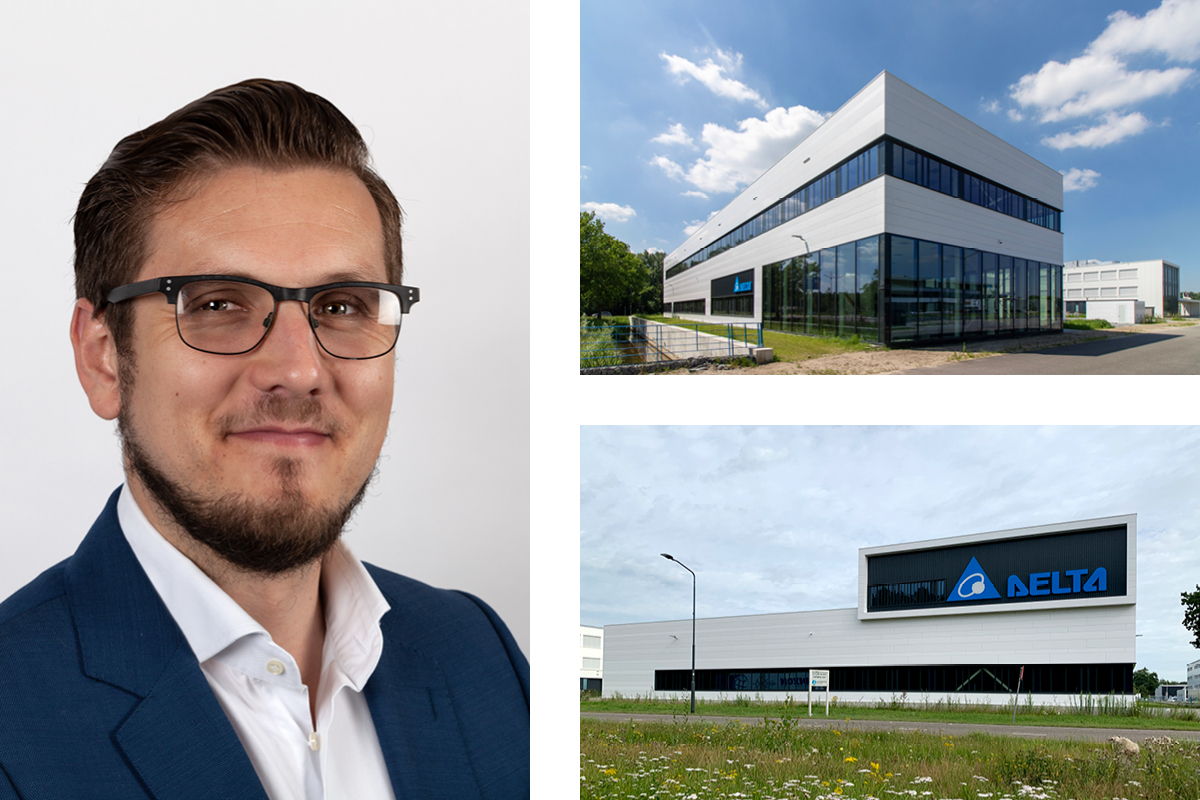 What does it mean to be green?
'From a design perspective, there are three main pillars we work with to create a green building. It should be sustainable, healthy and circular,' explains Gordon. 'We use sustainable materials (preferably locally sourced) and methods of construction. We create a healthy environment for the building's users, and we factor in circularity, so that at the end of the building's life, as much material as possible is able to be reused and recycled.
'Maximising sustainability from an architect's perspective means focusing on things like spatial efficiency. We design the building to be as compact as possible—less cubic metres means less space to heat—but this needs to be balanced with making sure the space is flexible and can be adapted for future needs.'
Material choices are also important. 'When we have the opportunity to build with recycled materials, of course we do,' Gordon continues. 'But sustainability also factors in the carbon footprint of the materials used. For example, a brick takes a lot of energy to produce, but it can last 100 or even 200 years. Whereas an aluminium panel takes much less CO2 to produce, but also has a much shorter lifespan. As an architect, creating a green design means balancing these ratios to discover which materials are truly the most sustainable.'
Inside the design process
'Delta's building is in a really great location,' Gordon says. 'Right away, we knew we wanted a big showroom entrance.'
Connection was a major consideration for the layout. 'We designed everything to be as connected as possible,' explains Gordon. 'Not necessarily physically connected, but visually connected, with clear sightlines from the offices upstairs to the courtyard and gardens, and the production area below. This helps office staff and production workers feel like part of the same team. We also created a number of "hearts"—community areas where people can come together for a cup of coffee or a chat.'
Promoting physical and mental wellness were also top priorities. 'Initially, we didn't want to put in a side door for the employees, although one was added in the end,' says Gordon. 'We wanted everyone to come through the showroom every day and go up the grand staircase. We even put the elevator right down the back of the building. The idea wasn't just to encourage people to climb stairs, but to have them walk past the showroom displaying the impressive products they've worked on, so they feel proud and motivated.'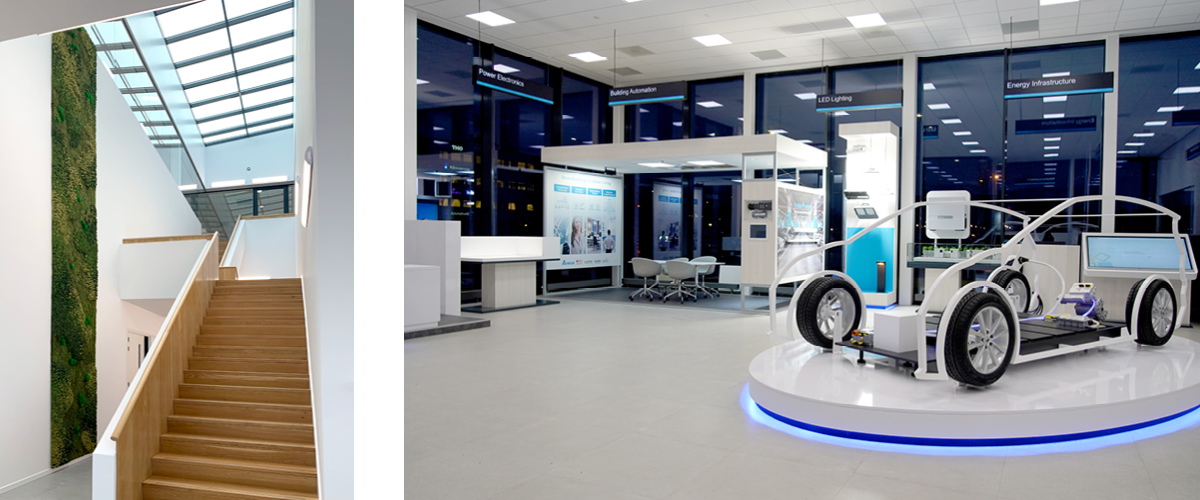 Sustainable solutions and future proofing
Delta's Helmond office was designed to be as green as possible from the first draft, making it easier to incorporate a lot of sustainable solutions in the final design.
The roof design factors in heat island reduction; it's not only made to host 360 solar panels, but to reflect heat from the sun and lower cooling costs. On a sunny day, the solar panels collectively produce 133 kW of energy—with minimal wastage thanks to two Delta M70A PV inverters, each with a peak efficiency of 98.8%.
Landscaping around the building purposefully incorporates shady areas. As the trees grow, they'll not only offer mood-enhancing greenery, but also provide shade to keep the building cool.
The mechanical and electrical systems play really important roles in the building's sustainable design. The building incorporates a smart BMS (building management system) which monitors usage and consumption. Other smart installations, including a VAV (variable volume) system, were also used. Depending on the occupancy in a room, a CO2 meter controls the flow of fresh air from the air handling unit.
Careful design ensures the building will remain operational for years to come. 'Future proofing is a green element that's not really covered in the certification process,' explains Gordon. 'We designed Delta's building slightly larger than required to handle growth projections. Plus, the rooms and the main hall are adaptable thanks to partition walls. The walls, ceilings and insulation system can be changed to cater for future needs.'
Incorporating Delta's own efficient solutions
The Helmond office contains a myriad of Delta's own highly efficient solutions, such as the innovative LED lighting system, which uses little power and automatically adapts the lighting to the present conditions. And thanks to the installation of Delta's HMI interface for temperature, light and air-quality control in every room, the lighting and temperature can be tailored to suit the people who are present.
The building also boasts several Delta systems for building automation, including room controllers, sensors and meters, exterior lighting, command and control solutions, monitoring and management solutions, and energy management solutions. Security is maximised using Delta's surveillance solutions, including multiple sensor network cameras, stereo network cameras, fisheye network cameras, and Delta's access control solution.
Even the parking lot is efficiency optimised with Delta's superchargers for electric vehicles (EVs). Two Delta 50 kW DC wallbox EV chargers and eight 11 kW AC MAX chargers deliver the power needed for staff and visitors. Plus, parking lot security is maximised by Delta's license plate recognition and smart parking solution.
'It was interesting working with Delta because they have so many of their own solutions,' says Gordon. It was really inspiring to work with a team that knows everything about their products. And now, the whole building is a showcase for Delta. Visitors can see all these fantastic solutions in action.'
Now that Delta's green Helmond office is fully operational, staff and visitors are enjoying the practicality and comfort offered by the sustainable workplace. For Gordon, it's a thrill to see it all come together. 'One of the things I love about being an architect is that I get to imagine something in my mind, and then it gets built in the real world where lots of people can enjoy it over many years.'
He's also excited to carry the lessons learnt along the way into future green-building designs. 'We learnt a lot from this project. There are so many different products, especially Delta Electronics products that can be installed to make a building as green as possible. We have also incorporated many of the learning outcomes from this project into our own company sustainability vision which we use to kick off every new design project!'
Want to know more about green buildings?
In a panel discussion – held during the official opening event of the new Helmond green building – Delta has invited 3 green building experts to cover this topic. Discover current insights and Delta's own view of this important topic in the video below.